Simple in function and simple to use, FlagTrax provides an innovative and proven approach to flag and banner display and installation.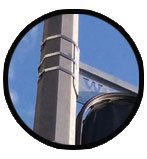 FlagTrax® Mounting Options
FlagTrax® is designed for a wide range of applications. These include mounting to lighting columns, round or octagonal steel or concrete poles, wooden lampposts etc., as well as mounting to suitable walls, stand-alone fixed poles etc. A horizontal arm or bracket is required to support the top of the FlagTrax track and to bear the wind forces on the flag. This arm or bracket can be an integral part of the lamppost or can be retrofitted to it when the FlagTrax unit is installed.
Each FlagTrax Revolution™ incorporates a tamper-proof lock and key mechanism which is located at the bottom access point of the track.
FlagTrax Revolution™ Flags
As well as the huge reductions in operating costs offered by FlagTrax®, you now have the choice of several leading flag companies to supply FlagTrax® Street Flags at competitive prices.
There are currently around 3600 FlagTrax installations throughout New Zealand, with more to come.